Nov 29, 2012 posted by: admin
Delmarva Power customers in Delaware will be seeing their electric bills increase slightly next year.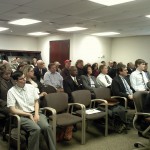 Following a hearing Tuesday afternoon, the Public Service Commission voted unanimously to approve a settlement between Delmarva Power, the Public Service Commission staff, the Public Advocate and the Delaware Energy Users' Group, that would allow the company to increase rates by 3.8 percent starting at the beginning of next year. The increase will cost customers between $22 and $25 million to pay for the company's installation of new "smart" meters last year.
The commissioners and PSC attorneys say that the settlement is fair to both Delmarva Power and its customers, and will maintain reasonable rates for customers. PSC attorneys say under Delaware law, utility companies are allowed to get a "return on equity" on investments they make in installing equipment to provide better service for their customers. Todd Goodman of Delmarva Power told the commissioners that as part of the settlement, the company agreed to a "historically low" return-on-equity rate of 9.75 percent. Goodman says overall, the smart meters will save the company $6.44 million a year. He says the company has already saved $2.2 million by not having to send out meter readers.
Representative John Kowalko (D-Newark) was one of the most vocal opponents of the settlement in the General Assembly. He says the cost of installing the meters should be beared either by Delmarva Power, its parent company, Pepco Holdings, or Pepco's shareholders, and not passed on to customers. He did acknowledge that the new meters were already helping customers save money on their electric bills, and were helping both Delmarva Power and its customers conserve energy.
Goodman and the attorney for the Public Advocate both disputed Kowalko's claims that he wasn't allowed to testify or enter new evidence at public hearings on the settlement. The Public Advocate attorney stated that Kowalko never entered any testimony when he had the opportunity. She also cited public records from hearings that said Kowalko was "representing all Delmarva Power ratepayers," and even threats he allegedly made about the fate of the Public Service Commission when it comes up for review before the Sunset Committee next year.