Nov 16, 2012 posted by: admin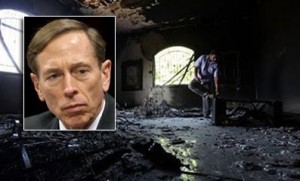 Top intelligence officials struggled to explain to lawmakers Thursday why their initial talking points after the Libya attack minimized the role of militant groups, putting pressure on former CIA Director David Petraeus to set the record straight in another round of closed-door hearings Friday. 
Lawmakers on the House and Senate intelligence committees heard testimony Thursday in private meetings with Director of National Intelligence James Clapper and Acting CIA Director Mike Morell. But Fox News was told there were heated exchanges on the House side, particularly over the talking points that administration officials relied on in the days after the Sept. 11 strike. 
Fox News was told that neither Clapper nor Morell knew for sure who finalized that information. And they could not explain why they minimized the role of a regional Al Qaeda branch as well as the militant Ansar al-Sharia despite evidence of their involvement. 
Read more: http://www.foxnews.com/politics/2012/11/15/intel-officials-struggle-to-explain-libya-talking-points-pressure-on-petraeus/#ixzz2CO6pdPhs