Nov 15, 2012 posted by: admin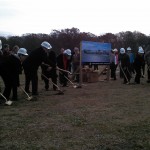 Laurel High School Principal Dean Ivory and School District Superintendent John Ewald called it an "exciting" and a "historic" day as ground was broken for the new middle and high school today. School Board President Patrick Vanderslice, a 1986 graduate of Laurel High, says the building has "needed a lot of work" since at least when he was in high school. All say the new building is being done for not just the students, but the community as well.
In addition to local and state representatives, school district employees, school board members, and even the Laurel High School student body and class presidents took part in the ceremonial groundbreaking. The new building will feature more soundproof classrooms equipped with IPads, smart boards (interactive whiteboards), and LCD overhead projectors. The grounds will also feature upgraded athletic facilities.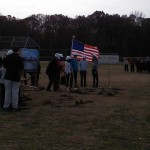 After being defeated in late March 2010, and then postponed in May, voters ultimately approved a referendum for $121 million in funding to build a new elementary school and a new middle and high school in October 2010. The school district will begin taking bids for the construction work on Friday (November 16). Work is scheduled to begin next month, and wrap up in July 2014. The new middle and high school building is expected to open the following month for the start of the 2014-2015 school year.
Students and their parents can follow the progress of the construction on Facebook and Twitter. The Twitter hashtag: #dig a hole.