Nov 15, 2012 posted by: admin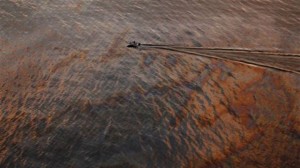 UPDATED – Senator Tom Carper welcomes the announcement of a settlement between the US Department of Justice and BP in connection with the Deepwater Horizon oil spill in 2010.  However he adds that it's only a solution to one chapter of the story.  Carper says he'll continue to focus on ensuring that those who are responsible for the oil spill are held accountable to the citizens who live on the Gulf Coast – and to all Americans. And to ensure that US taxpayers aren't left holding the bill.
———————————————————————
Oil giant BP has agreed to pay a criminal penalty in the billions of dollars for the 2010 oil spill in the Gulf of Mexico, a person familiar with the deal said Thursday.
The person, who spoke on condition of anonymity because they were not authorized to speak on the record about the deal, also said two BP PLC employees face manslaughter charges over the death of 11 people in the explosion of the Deepwater Horizon oil rig that triggered the massive spill.
The person said BP will plead guilty to obstruction for lying to Congress about how much oil was pouring out of the ruptured well.
The Deepwater Horizon rig, 50 miles off the Louisiana coast, sank after the April 2010 explosion. The well on the sea floor spewed an estimated 206 million gallons of crude oil, soiling sensitive tidal estuaries and beaches, killing wildlife and shutting vast areas of the Gulf to commercial fishing.
The spill exposed lax government oversight and led to a temporary ban on deepwater drilling while officials and the oil industry studied the risks, worked to make it safer and developed better disaster plans.
Read more: http://www.foxnews.com/us/2012/11/15/bp-says-settlement-near-on-us-penalties-connected-to-2010-oil-spill/?test=latestnews#ixzz2CIsz4xIJ