Oct 12, 2012 posted by: Mari Lou-WGMD News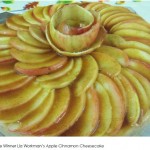 As the Apple Scrapple Festival was getting underway in Bridgeville, judges named the winners of the Apple Dessert Baking Contest.  The entries came from across Delmarva – and are in three categories – teen – 10-17, adult and professional.
The teen winner is 10 year old Garrett Briggs of Greenwood with his Ricotta Apple Pie.  The adult winner is Lia Workman of Millsboro with her Apple Cinnamon Cheesecake.  In the professional category, Tilghman Island County Store's Apple Walnut Muffins was the winner and Abbott's Grill in Milford was a close second with its Apple Cranberry Cobbler.   Recipes available to the public in November through the TS Smith Farm Market.
The second & third place winners in the Adult category were Jean Stokesbury of Seaford with Mom Mom's Apple Dumplings and Terri Carr of Lewes with her aunt's Apple Pound Cake