Oct 10, 2012 posted by: admin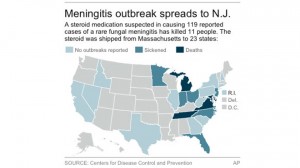 Federal and state health officials are racing against the clock to track down as many as 13,000 people who may have received tainted back-pain injection suspected in a fatal outbreak of fungal meningitis.
The U.S. Centers for Disease Control  said state health departments are working closely with clinics to contact the patients "through letters, emails, phone calls – you name it."
At least 119 people have been sickened with meningitis and/or strokes, and 11 of those have died, according to the CDC. Current numbers do not reflect patients who may have received the shots for pain unrelated to the back – for example, some patients may have received shots due to neck, knee and shoulder pain.
Read more: http://www.foxnews.com/health/2012/10/09/hunt-for-tainted-syringes-how-health-officials-are-tracking-meningitis-outbreak/?test=latestnews#ixzz28scUtfEB